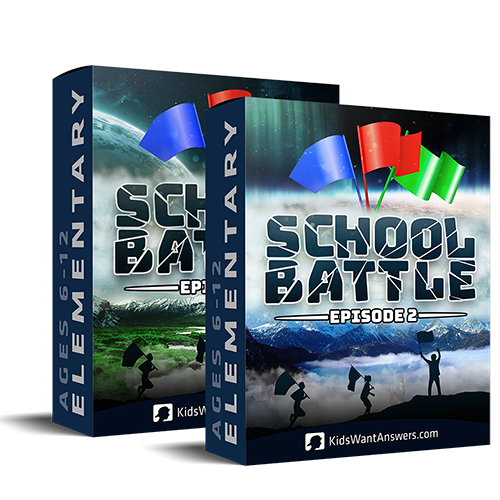 Bundle:
School Battle 1&2
Bring the schools to your church!
Enjoy a steep discount with the School Battle 1 and 2 bundle. Watch how your regular kids/students will eagerly invite their friends to compete in each of these two-week competitions, filled with twists, turns and a deeper meaning. The School Battle series are easy to use at your regular service times, but can also be used as separate outreach events at any time of the year. It's loved by both youth- and children's ministries around the world (Age 7-15).
Take out the chairs and turn your room into an awesome arena!
Kids will dress in the colors of their school & compete for their school's honor
Comes with games, teaching elements, and more, in the leader lesson guides
Includes high-energy media elements that give the program an extra kick!
2 Series of each 2 lessons

$180,-
Reach the young of your community!
O
utreach programs have never been this exciting!
With each School Battle series, you'll temporarily replace your regular service with a two-week competition where kids from neighboring schools "battle" in hilarious and awesome competitions.
Your room will turn into an arena. Kids will be dressed in their school's colors; and leaders will become team mascots! In order to win, kids are encouraged to invite friends from their school. Together, they'll experience the event of a lifetime: School Battle!

Kids compete for their school… at your church!
I
nstead of regular teaching videos, this series has high-octane, inspiring, challenging School Battle videos, each introducing the next round of the competition.
The teaching itself is live, and it's broken up into multiple easy-to- teach pieces. They're short but impactful, and help attendees to feel what a life with Christ could be like.
Your goal is for kids/students to come back to church once School Battle is over. That's why the teaching "teases" the attendees to want to know more about "this whole God-thing" :).