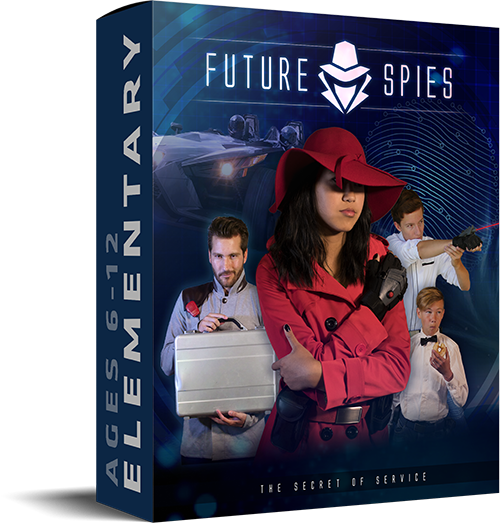 Future Spies: The Secrets of Service
Seven jam-packed curriculum lessons for ages 6-12, helps kids kids discover God's purpose for them
Highly engaging teaching videos (10-15 min per lesson total)
Screen graphics for all lesson modules
Editable leader guides for your team
Highly engaging lesson format
Series of 7 lessons
Our most cutting edge series!

$299,-
Included:
---
Fully Editable Leader Guide
Immersive Media Elements
Engaging Rotations
Created for:
---
Church Children's Services
Bible Lessons at School
Use this upgrade for VBS/Camp
Curriculum Details:
---
7 lessons which includes
Games, teaching and rotation-time
Ages 6-12
Witness the God-given power of story
W
We've seen families drive back from vacation, because their kids didn't want to miss the teaching videos at church! Why? Because the teaching videos form an ongoing story.
The Bible is full of stories. Jesus told stories. We're part of God's story. Storytelling is part of ministry, so it's about time we took it to the next level!
With Future Spies, a gripping spy-story forms the thread of the series.
E
ach lesson flows out of the ongoing modern-parable. Since the stakes rise at every lesson, the kids will stay deeply engaged. Each lesson also ends on a cliff-hanger, so kids will be excited about what happens next.
The Future Spies story was written by professionally schooled film-writers; the videos took two years to produce! It has incredible twists and turns and it's loved by both boys and girls… and your volunteers!
The effect on the room is incredible; you don't have to shush rowdy kids… they'll shush you if you talk through their video-time!

Simply the most immersive series we've ever created!

Help kids discover God's purpose for them
W
hile we were designing Future Spies, we asked; "What if kids ONLY attended one church series during their youth… what should they walk away with?" They should be curious about God's plan for their lives; they should be hungry to know God better, they should know there's a lot to explore about a life with God. That's why we chose the theme to be about the meaning of life, or, said differently, God's plan for you.
T
he slogan of Future Spies is "the secret of service". Why? Because God reveals a little bit of his plan for our lives, every day… as long as we keep serving him without wondering off! You discover God's plan for your life while you walk with God, while you SERVE him. That, dear secret agents, is the secret of service!
Here an overview of each lesson in the series:

Lesson 1: Find the meaning of your life
Kids learn that the best life is a meaningful life, and God gives it meaning. When we choose against living for ourselves, but for loving others, God will put us on missions to serve others, and those missions are deeply meaningful. And the strongest love, is loving your enemy.

Lesson 2: Be on your mission
Kids learn what a calling is: a life full of missions given by God himself! They'll also learn that God lets them give the biggest gift to others: the gift of the Good News.

Lesson 3: Have a team around you
Kids learn that a meaningful life isn't lived alone. They set themselves up for success when they create a team around them; people who speak into their lives. No secret agent works alone!

Lesson 4: Allow God to change you
Kids learn that they aren't meant to stay the way they are. To live the most meaningful life, God wants to make them more like him. But we don't have the power to change ourselves. Luckily, God gives us his strength to change.

Lesson 5: Leave a legacy everywhere you go
Your kids learn that a meaningful life leaves a legacy; a God-given legacy. It's built one day at a time. By serving others we leave a little legacy in others' lives. Kids learn that a true life is a life of service. God is the secret of service!

Lesson 6: Everything you do is for your maker
Kids will understand that God isn't only for Sundays. Our entire life is for, by and through God. When we live for him only – instead of the approval of others – we'll have a much less complicated life…and a more meaningful one!

Lesson 7: Make your choice
At this series finale, kids will go over the things they've learned, so that they can see what a meaningful, Godly life looks like. They'll then decide if they want that kind of life.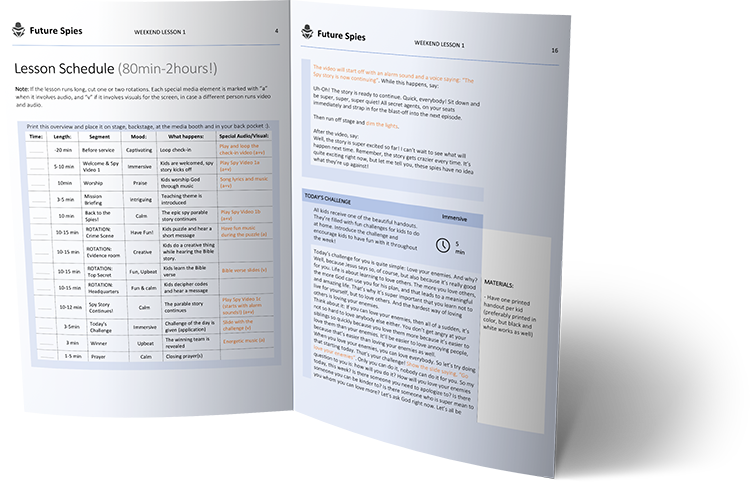 T
hese lessons not only help you teach highly practical messages, they also help you take kids on an interactive ride:
Almost all games involve all kids, no matter your church size.
Lessons are written to maximize impact, yet minimize preparation time.
It's scalable from 8 to 3000 kids (It's tested up to 3000).
Designed for one teacher or a team of teachers, and even kids can teach segments (let them!)
The lessons focus on life-change (Bible application), not just knowledge-transfer.

E
very lesson comes with stunning screen-graphics, supporting nearly all systems:
Professional graphics: Each lesson comes with well-designed, editable on-screen graphics
Use any presentation software: The video files work with nearly every presentation software (simply drag the files into your ProPresenter, MediaShout, Keynote or Powerpoint. Editable PowerPoint files are included)
Always organized: A lesson's screen files come in one handy folder, all neatly numbered in the order of the lesson.
Never lose anything: Log in to our system at any time to re-download your purchased series!
No failing DVDs: DVDs get lost, scratched up and don't work in every player. It's time to leave them in the 90s where they belong.