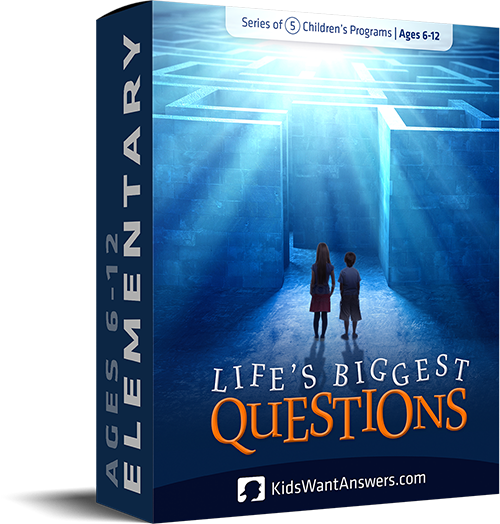 Life's Biggest Questions… about God
Five jam-packed curriculum lessons for ages 6-12, answering the hardest questions that kids have about God.
Series of 5 lessons

$250,-
Created for:
---
Church Children's Services
Camp & VBS Teaching Time
Bible Lessons at School
Included:
---
Fully Editable Leader Guide
Teaching & Training Videos
Kids Handout per Lesson
Curriculum Details:
---
5 lessons which includes
Games, teaching and group-time
Ages 6-12
O
nly the Bible can answer life's biggest questions. And make no mistake; kids have deep and meaningful questions, just like adults do! Sadly, many kids grow up in church and never get their questions answered. It's time to change that for good!
W
e gathered hundreds of questions that kids ask. For this first " Biggest Questions" series, we picked 5 of their biggest questions about God. The series will enable you to explain Biblical answers in an amazingly easy way. You'll answer their honest questions about God, his existence, why he's invisible, why He allows suffering, and then some!
We can't have kids grow up in church, without their questions being answered!
Includes State-Of-The-Art Teaching Videos
E
ach lesson comes with a high-impact teaching video that answers that lesson's question. Watch the example above! In addition, there are opportunities to teach live, in small groups, and through every single lesson segment… even the games!
What's Each Lesson About?
Confession: Writing this series was insanely hard. But we like a challenge! Not only did we find the answers to kids' hardest questions, we also tested the answers again and again to see when kids understood and felt satisfied. We proudly present the first 5 "Biggest Questions" about God:

Lesson 1: How do I know that God is real?
Kids will learn 3 ways to know that God doesn't only exist, but that he wants a friendship with them. They'll also learn how that changes their lives.

Lesson 2: If God is real, then why is He invisible?
The first lesson's question sparks this one. If God is real and wants us to be his friend, why on earth would he make himself invisible right now? Kids will learn the answer, and will be surprised to learn how God hides his face for their benefit.

Lesson 3: Where did God come from?
This question is obviously an incorrect question, because God was never made or born. But this is the question kids ask. This lesson will help them wrap their heads—and hearts—around the fact that God had no beginning and no end,and that he's always there for you. Always.

Lesson 4: If God loves us, why do bad things happen?
The big question of suffering should never be skipped! If left unanswered, many kids denounce their faith later in life. Kids will learn God's perspective on suffering, how God helps us when we suffer, our responsibility when others suffer, and on the lack of suffering in heaven.

Lesson 5: What does God look like?
This question is often ignored in church, because as adults, we've learnt to live by faith, not by sight. But kids have a hard time thinking abstract like that. They crave some sort of way to picture God. Luckily, God describes himself visually in the Bible. Kids will be delighted to hear ofHis glory.
What Will This Do For Your Ministry?
.
This curriculum brings about 15 innovations to your Children's Ministry or school.
.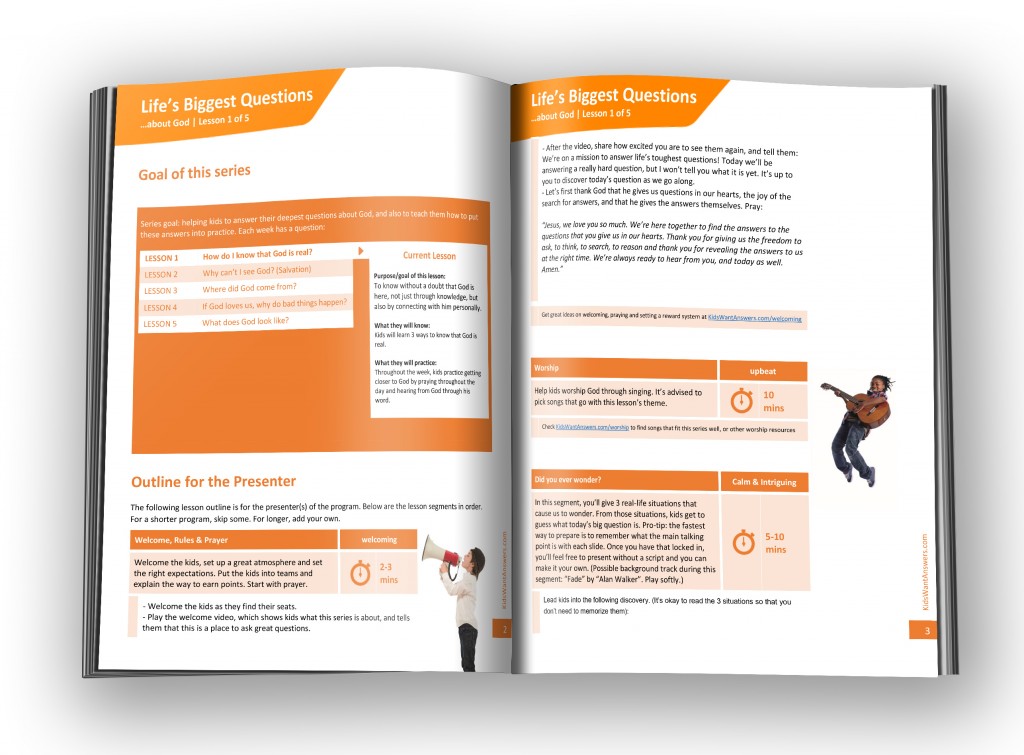 T
hese lessons not only help you teach highly practical messages, they also help you take kids on an interactive ride:
Almost all games involve all kids, no matter your church size.
Lessons are written to maximize impact, yet minimize preparation time.
It's scalable from 8 to 3000 kids (It's tested up to 3000).
Designed for one teacher or a team of teachers, and even kids can teach segments (let them!)
The lessons focus on life-change (Bible application), not just knowledge-transfer.
Go ahead, check out a sample lesson:
H
ave you noticed? Normal handouts don't work anymore! Kids just throw them in the trash. So let's step it up a notch! We've custom-designed handouts that kids actually want. This way the lesson goes on at home. These glistering handouts are full of fun activities, challenges, family involvement and even Biblical entertainment.
Yes, print as many as you need.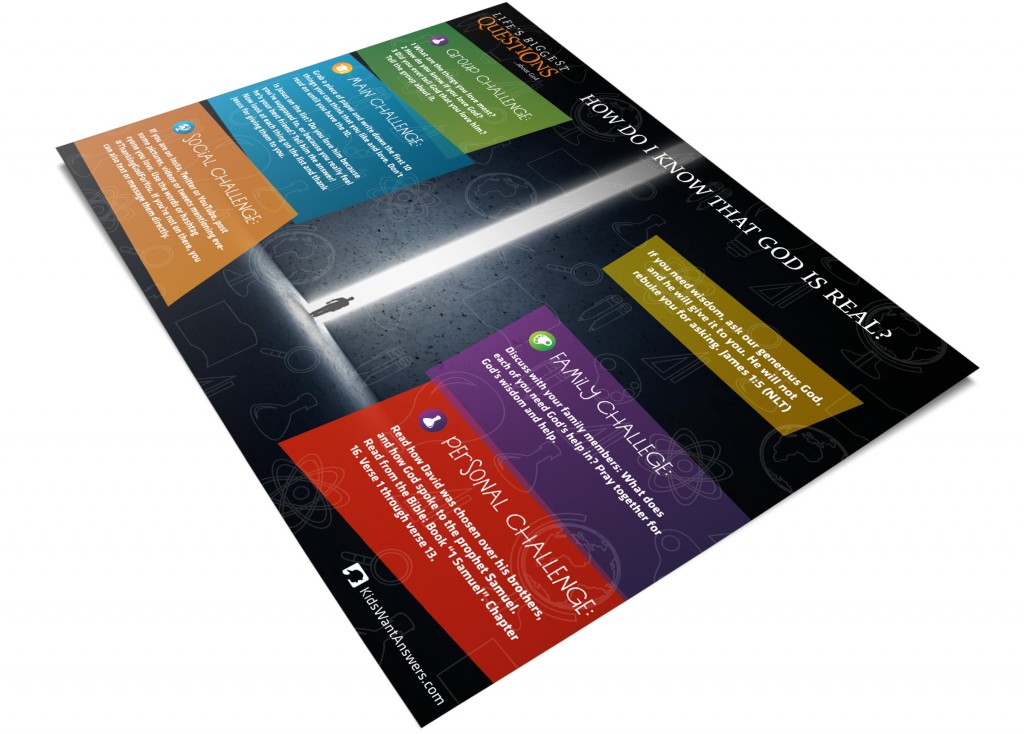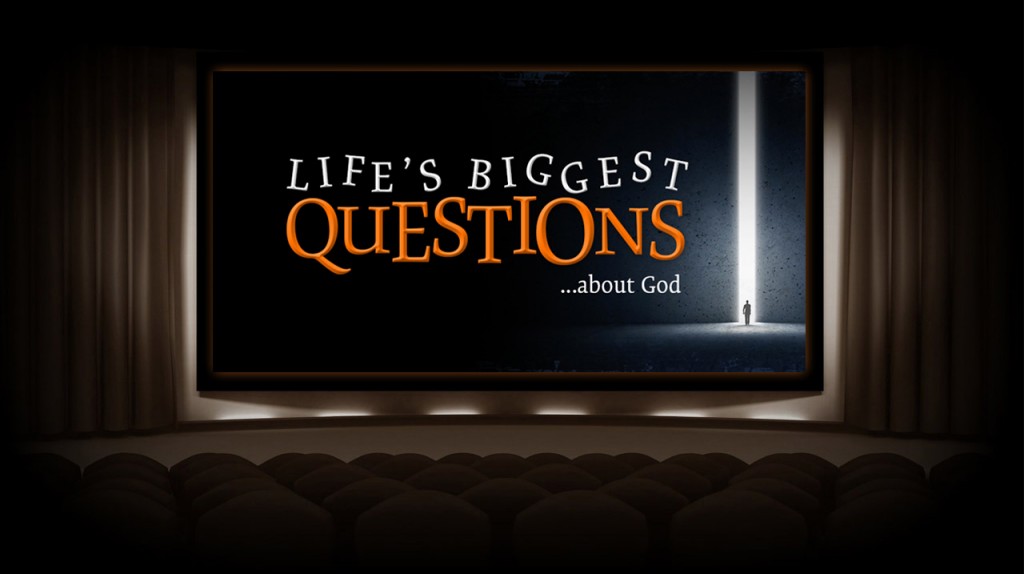 E
very lesson comes with stunning screen-graphics, supporting nearly all systems:
Professional graphics: Each lesson comes with well-designed on-screen graphics, and even have comical extras
Use any presentation software: The image files work with nearly every presentation software (simply drag the image files into your ProPresenter, MediaShout, Keynote or Powerpoint app)
Fully editable: No need for fancy design software. If you need to edit the screens, you can do so in the PowerPoint/Keynote files that are included.
Always organized: A lesson's image files come in one handy folder, all neatly numbered in the order of the lesson.
Never lose anything: Log in to our system at any time to re-download your purchased series!
No failing DVDs: DVDs get lost, scratched up and don't work in every player. It's time to leave them in the 90s where they belong.