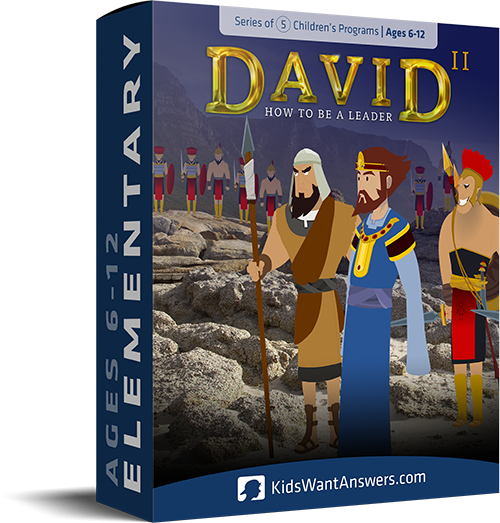 David 2:
How to be a leader
Five jam-packed curriculum lessons for ages 6-12. Learn how to be a leader from David's example (for part one, click here).
Series of 5 lessons.
Our best selling series!

$250,-
Created for:
---
Church Children's Services
Camp & VBS Teaching Time
Bible Lessons at School
Included:
---
Fully Editable Leader Guide
Teaching & Training Videos
Kids Handout per Lesson
Curriculum Details:
---
5 lessons which includes
Games, teaching and group-time
Ages 6-12
W
ith this second series of David, we continue the question: what if God would look at your kids and say; "look, these are kids after my own heart"? Wouldn't that be the dream of every parent and pastor? God looked at David and said just that. (1 Sam 13:14) In fact, he evaluated most kings by asking: "Is he like my servant David?"
W
ith this second installment, kids learn what made David so special, and how they can became men and women after God's own heart as well. Take them on a mind-blowing journey towards the epic conclusion of the
First Book of Samuel
.
Use this series right after David Series 1, or have another series in-between!
Includes State-of-the-Art Videos!
E
ach of these five lessons come with a top notch animated story that follows David' s life. The script was written after thorough theological and historical research, including most recent archeological finds.The music was custom-scored to fit both a cinematic feel as well as a modern, grungy finish; bringing the tension of that time home today.
What's Each Lesson About?
This second series of David will have kids' jaws drop! Follow the amazing story after David flees from Saul. From hunted refugee to king of the nation, David was a leader in all situations.
This series kicks off at 1 Sam chapter 20 (when David's time at Saul's palace concludes) and tells the story 'till the end of the book when he's crowned king of Judah.

Lesson 1: The 1 thing that makes great leaders great
In this lesson, kids get to see how David was a leader inoneof the worst periods of his life. He became a hunted fugitive, living in a cave, but still served 400 people! True Biblical leadership is just that: serving others.

Lesson 2: How to be a great leader when life is unfair
Help kids learn an essential life-lesson: to never take revenge. Kids will see how David got chance after chance toget even with Saul. But he didn't.He left it up to God to set things right.

Lesson 3: How to be a great leader by "being sneaky"…in doing good!
Real leaders plot and scheme…but not to do evil. They use their smarts todo good works. In this lesson, kids will see which "sneaky" things David did to continue God's plan. Many kids are street-smart; how great would it be if they used those skills for good, not for evil

Lesson 4: How to be a strong leader when you're feeling weak
At this point in David's story, he lost everything to raiders. Even his own men want to kill him. Seeing how David cries out to God, the kids will learn a valuable lesson: You don't only go to God when you need something. You can share your honest feelings with him, no matter what they are

Lesson 5: The one thing great leaders live for
In this epic conclusion of the story, the kids will see the result of two lives; Saul is destroyed, but David becomes victorious. Kids will learn how each one lived for something different, and they'll be faced with the question: What—and who!—will you live for? (This lesson includes salvation emphasis).
What Will This Do For Us?
.
This curriculum brings about 15 innovations to your Children's Ministry or school.
.
T
hese lessons not only help you teach highly practical messages, they also help you take kids on an interactive ride:
Almost all games involve all kids, no matter your church size.
Lessons are written to maximize impact, yet minimize preparation time.
It's scalable from 8 to 3000 kids (It's tested up to 3000).
Designed for one teacher or a team of teachers, and even kids can teach segments (let them!)
The lessons focus on life-change (Bible application), not just knowledge-transfer.
Go ahead, check out a sample lesson:
H
ave you noticed? Normal handouts don't work anymore! Kids just throw them in the trash. So let's step it up a notch! We've custom-designed handouts that kids actually want. This way the lesson goes on at home. These glistering handouts are full of fun activities, challenges, family involvement and even Biblical entertainment.
Yes, print as many as you need.
E
very lesson comes with stunning screen-graphics, supporting nearly all systems:
Professional graphics: Each lesson comes with well-designed on-screen graphics, and even have comical extras
Use any presentation software: The image files work with nearly every presentation software (simply drag the image files into your ProPresenter, MediaShout, Keynote or Powerpoint app)
Fully editable: No need for fancy design software. If you need to edit the screens, you can do so in the PowerPoint/Keynote files that are included.
Always organized: A lesson's image files come in one handy folder, all neatly numbered in the order of the lesson.
Never lose anything: Log in to our system at any time to re-download your purchased series!
No failing DVDs: DVDs get lost, scratched up and don't work in every player. It's time to leave them in the 90s where they belong.