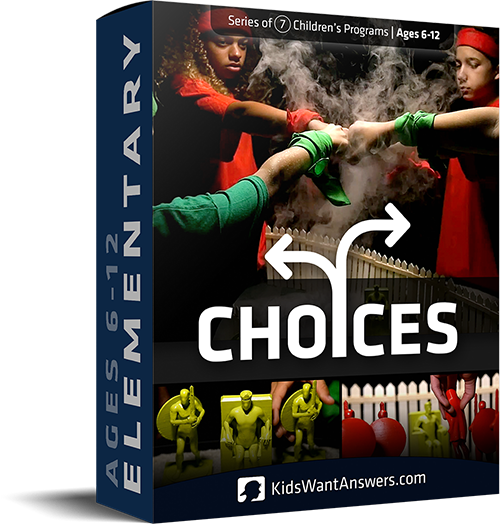 CHOICES – How to make your choices together with God.
7 jam-packed curriculum lesson for ages 6-12, teaching kids how to make tough choices easier.
Series of 7 lessons

$350,-
Created for:
---
Church Children's Services
Camp & VBS Teaching Time
Bible Lessons at School
Included:
---
Fully Editable Leader Guide
Teaching & Training Videos
Kids Handout per Lesson
Curriculum Details:
---
7 lessons which includes
Games, teaching and group-time
Ages 6-12
The Vision Behind this Series
Kids are always told to "make good choices"… but how?
K
ids hear it every day; "Make good choices!". But how do they do that? And how does God want to be involved in our decision-making? This series gives kids 7 practical steps to making even the hardest choices!
W
e often believe that kids don't need to make hard choices. But that's not true. They have to choose what school they'll go to, if they'll live with mom or dad, they choose which friends to hang with, and the biggest choice of all; if they'll follow Christ.
This series gives kids the tools you wish you had as a kid! It gives 7 easy steps to choose together with God.
What if your kids learnt to involve God in every choice they make?
State-Of-The-Art Teaching Videos
G
et ready for highly creative teaching videos featuring kids who use a strategy-war-table to bring the Bible stories to life. Our creative team spent weeks to 3D-design and 3D-print the characters… and kids just love the result!
Each lesson features a Bible story where life-or-death choices had to be made. All through the series, kids will follow the nation of Israel as they enter the promised land and make choices that affect their nation forever.
What's Each Lesson About?
This deeply practical series has been in the works longer than any other because it had to be near perfect! Throughout the series kids will follow the story of Israel, how they entered the promised land and established a nation. By watching the beginnings of a nation, kids will learn how important it is to make the right choices…choices can impact your future forever!
With each lesson, kids will learn one of the 7 steps to making choices together with God. Even the hardest choices will become easier when kids follow these 7 Biblical steps. Adults have emailed us saying that they'll use these steps for life!

Lesson 1: Step 1 is "Ask God first"
After seeing how Joshua failed to conquer the tiny town of Ai (Joshua 7-8), kids will learn how important it is to involve God in their decision-making. We can involve God before we even know we have a choice to make!

Lesson 2: Step 2 is "Do your research"
Faith is NOT the absence of facts, it's choosing to trust God even when the facts are bleak. In this lesson kids will learn to uncover the facts before they make any choice. As proverbs says, we should gather knowledge! Its one of the few things we're told to gather on earth. And this is a great antidote against gossip, rumors, and living on impulse.

Lesson 3: Step 3 is "Ask others for advice"
Kids will learn that nobody is always right all the time…not even themselves! 🙂 After seeing how David won back his throne simply through a "battle of advisors" (2 Sam 16-19), kids will see how powerful advice can be. You'll get to teach them to go to advisors who say the right thing, who don't just say what you want to hear.

Lesson 4: Step 4 is "Set your goal"
Choices can be paralyzing until you step back and ask, "What's my goal?". Murky choices become clear once your goal is set. God wants us to live intentionally, rather than being tossed by the waves of life (James 1). Kids will see how Israel's first king did NOT have a clear goal (1 Sam 15), how he ended up chasing the wrong goal, which lead to the downfall of his reign.

Lesson 5: Step 5 is "Calculate the cost"
Every choice has a cost associated to it. Kids will learn that each choice costs either time, effort and money to realize. Just because we follow God, doesn't mean that things will go automatically! God wants us to put in the work, for which he'll reward us. For the Bible story we shoot ahead in time to Jesus' era, and discover one of his lesser-known (but amazing) parables (Luke 14:25-33).

Lesson 6: Step 6 is "Defeat your fears"
While we're still in Jesus' era, kids will learn yet another of Jesus' parables, which is the one of the talents. In this story, one of the three servants fails, and for one reason only; fear. We're often afraid to make the right choice. Sometimes all it takes is to decide to go in against fear. Kids will learn all about this important step in this lesson.

Lesson 7: Step 7 is "Make your choice!"
In this final lesson, we go back to the story of Israel, this time before it had a king; the era of the judges. Kids will learn of Gideon's heroic story. Gideon needed a few nudges before he finally made his choice, but once he did, he fully made the choice without turning back on it. This is how you'll teach the final step, which is to make the unwavering choice and have a point of no return.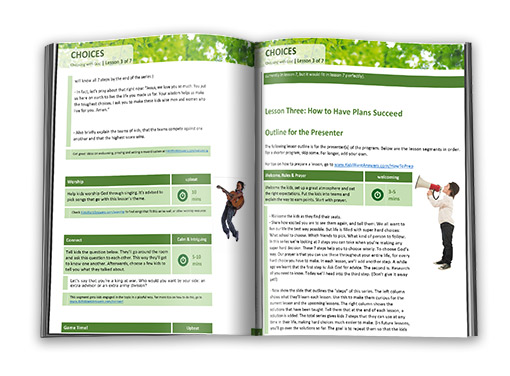 T
hese lessons not only help you teach highly practical messages, they also help you take kids on an interactive ride:
Almost all games involve all kids, no matter your church size.
Lessons are written to maximize impact, yet minimize preparation time.
It's scalable from 8 to 3000 kids (It's tested up to 3000).
Designed for one teacher or a team of teachers, and even kids can teach segments (let them!)
The lessons focus on life-change (Bible application), not just knowledge-transfer.
Go ahead, check out a sample lesson:
H
ave you noticed? Normal handouts don't work anymore! Kids just throw them in the trash. So let's step it up a notch! We've custom-designed handouts that kids actually want. This way the lesson goes on at home. These glistering handouts are full of fun activities, challenges, family involvement and even Biblical entertainment.
Yes, print as many as you need.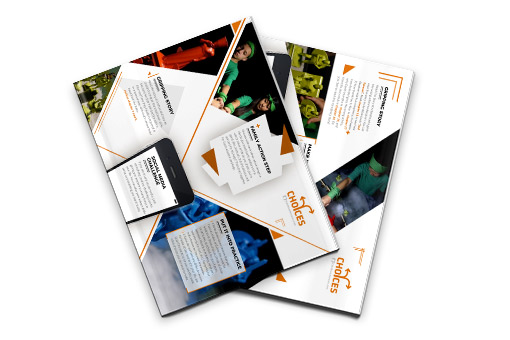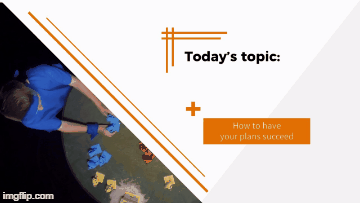 E
very lesson comes with stunning screen-graphics, supporting nearly all systems:
Professional graphics: Each lesson comes with well-designed on-screen graphics, and even have comical extras
Use any presentation software: The image files work with nearly every presentation software (simply drag the image files into your ProPresenter, MediaShout, Keynote or Powerpoint app)
Fully editable: No need for fancy design software. If you need to edit the screens, you can do so in the PowerPoint/Keynote files that are included.
Always organized: A lesson's image files come in one handy folder, all neatly numbered in the order of the lesson.
Never lose anything: Log in to our system at any time to re-download your purchased series!
No failing DVDs: DVDs get lost, scratched up and don't work in every player. It's time to leave them in the 90s where they belong.