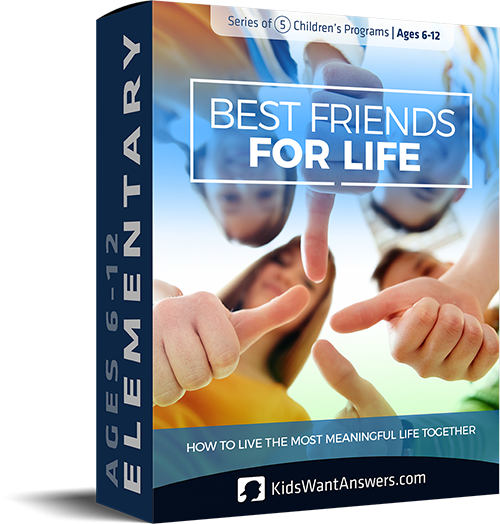 Best Friends For Life
How to live the most meaningful life together
Seven jam-packed curriculum lessons for ages 6-12, teaching kids how to transform their existing groups of friends into change-makers!
Highly engaging teaching method
Screen graphics for all lesson modules
Editable leader guides for your team
Printable take-home posters for kids
Series of 7 lessons
($50 per lesson)

$350,-
Included:
---
Fully Editable Leader Guide
Teaching & Training Videos
Kids Handout per Lesson
Created for:
---
Church Children's Services
Camp & VBS Teaching Time
Bible Lessons at School
Curriculum Details:
---
7 lessons which includes
Games, teaching and group-time
Ages 6-12
The series that sparked a movement!
T
his series is unlike anything you've seen before. Inspired by multiplication movements in the east, this series teaches your kids how to become self-feeding Christ-followers, and how to spread this to others.
Not only does it help kids see the value of friendships, it helps kids to ACTIVATE the friendships they have, so that each existing group of friends becomes a MOVEMENT.
Thanks to this series, we've seen kids start their own multiplying small groups around the world…all on their own!
T
his series puts kids in control of their own spiritual growth, and teaches them how to hear from God's word. On top of that, they'll discover how to help their friends to hear from God, by starting their own little huddle groups.
Wherever we've done this series, these groups have multiplied, showing that God can work through ANY age…especially kids!
Instead of teaching kids… unleash them!
T
his series has NO teaching video, which is done on purpose! In a really easy way, you'll teach kids to teach themselves. It's incredible to see kids open their Bibles and actually GET IT. Prepare yourself to be blown away when you see God's Spirit work through your kids. It will go far beyond the services as kids take these methods home.
We've seen kids start their own groups in Burger Kings, at schools, during sleepovers and more!
Here an overview of each lesson in the series:

Lesson 1: Together versus Alone
In this first lesson, kids learn how to become self-feediers and how to read the Bible with two or three others. They'll form their own small groups while they learn God's purpose for friendships. Kids will be challenged to turn their existing groups of friends into a a group that honors God (whether this group goes to church or not).

Lesson 2: Sharing God's mission together
Kids learn that God has given each of us an exciting mission. Instead of looking only at your own mission, we should look at the mission we SHARE, and work TOGETHER to accomplish God's great mission. Your kids will learn how to do this.

Lesson 3: Building deep friendships together
Kids will learn how important lasting friendships are. They'll learn how to keep friendships intact, rather than acting on negative feelings and impulses. Kids learn how to be a good friend in bad times, and they'll learn what the deepest type of friendship is: those who share a friendship with Jesus.

Lesson 4: Becoming better people together
Kids are often told to have "good friends". This series goes deeper and teaches that everyone is moving into some direction. We need friends with an improving character, no matter how far they are from Christ right now. Kids learn to join with friends who want to get closer to Christ.

Lesson 5: Serving other people together
While kids continue to start their own groups, they'll learn that no one is ever too young to serve God—and that they can serve God by serving the people whom God has made. When they work together with others in God's plan, they'll be unstoppable and they'll live deeply meaningful lives.

Lesson 6: Going to God together
Kids learn that no friendship is complete without God as part of it. They'll understand that the best life is one lived for God, which is called "a life of worship". Kids will know that living like this will dramatically change their lives for the better, and that they'll feel much closer to God this way.

Lesson 7: Keeping your habits for life (salvation emphasis)
In this final lesson, kids will look back and see the lives they impacted during the series. One more time they're taught to understand that they'll have the best life when they follow God's plan for them everyday, and share this life with others who do the same. When they follow Christ, they can celebrate what God does through them each day.
What Will This Do For Your Ministry?
.
This curriculum brings about 15 innovations to your Children's Ministry or school.
.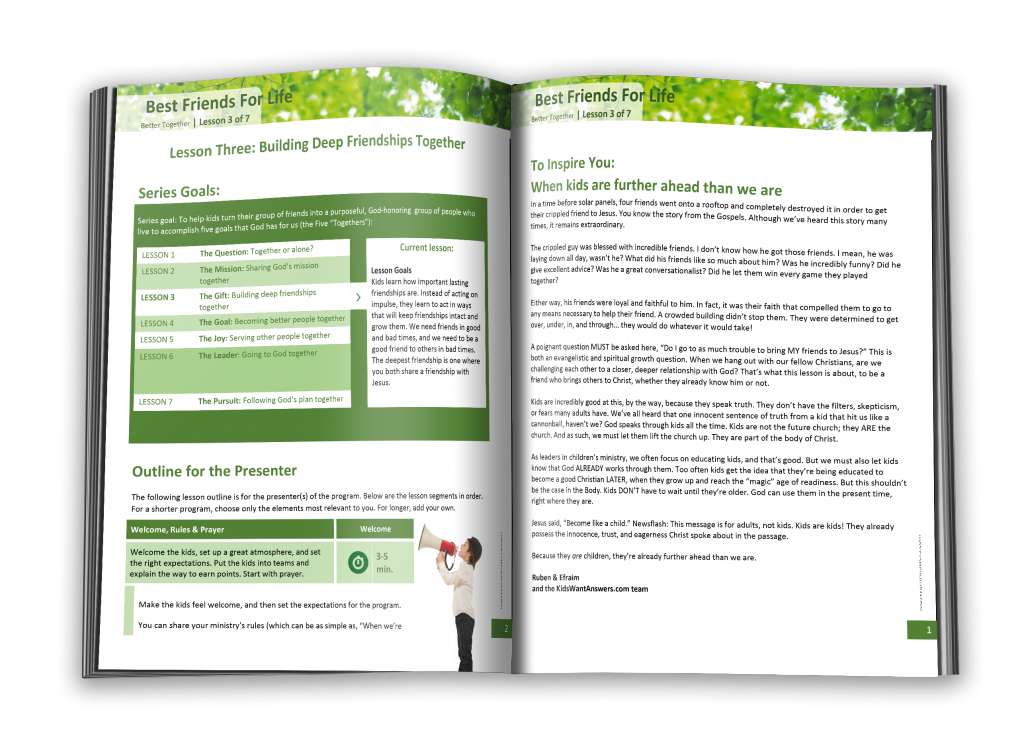 T
hese lessons not only help you teach highly practical messages, they also help you take kids on an interactive ride:
Almost all games involve all kids, no matter your church size.
Lessons are written to maximize impact, yet minimize preparation time.
It's scalable from 8 to 3000 kids (It's tested up to 3000).
Designed for one teacher or a team of teachers, and even kids can teach segments (let them!)
The lessons focus on life-change (Bible application), not just knowledge-transfer.
H
ave you noticed? Normal handouts don't work anymore! Kids just throw them in the trash. So let's step it up a notch! We've custom-designed handouts that kids actually want. This way the lesson goes on at home. These glistering handouts are full of fun activities, challenges, family involvement and even Biblical entertainment.
Yes, print as many as you need.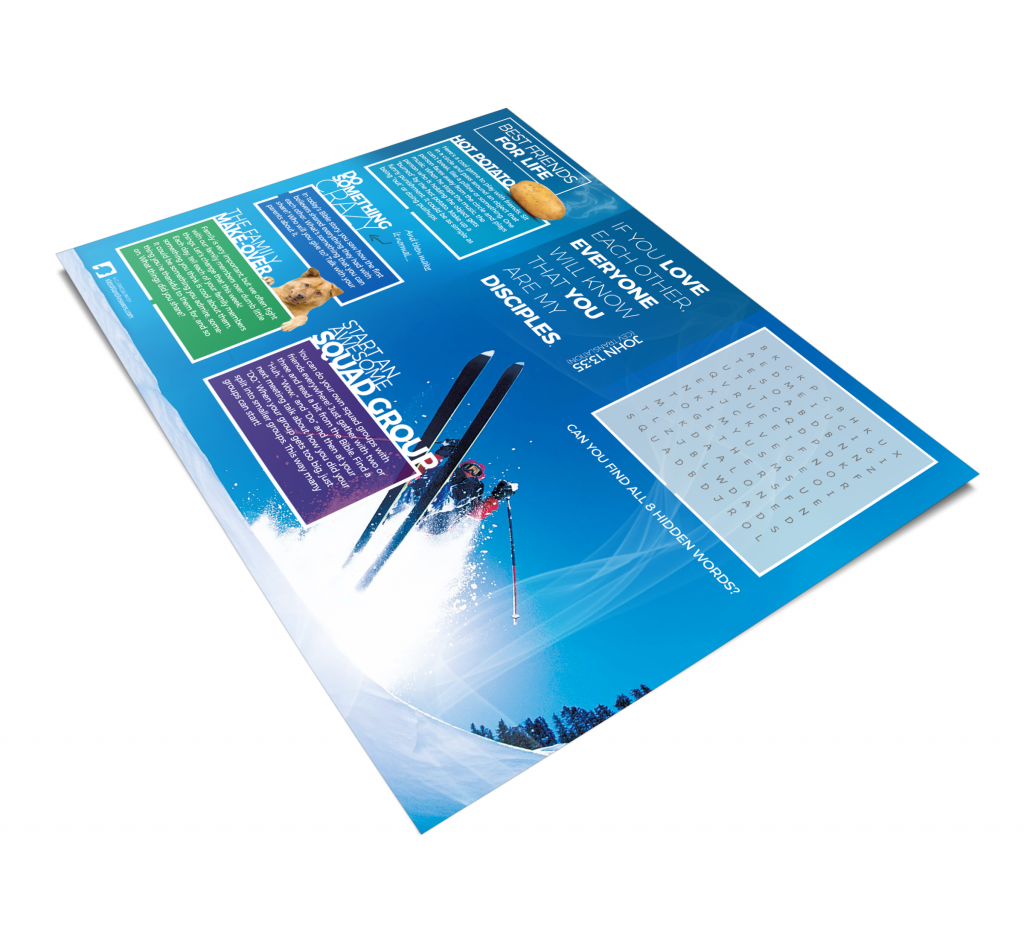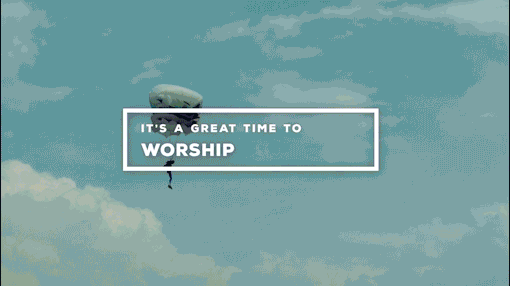 E
very lesson comes with stunning screen-graphics, supporting nearly all systems:
Professional graphics: Each lesson comes with well-designed animated (!) on-screen graphics
Use any presentation software: The video files work with nearly every presentation software (simply drag the files into your ProPresenter, MediaShout, Keynote or Powerpoint app, make sure you set the videos to "loop")
Always organized: A lesson's screen files come in one handy folder, all neatly numbered in the order of the lesson.
Never lose anything: Log in to our system at any time to re-download your purchased series!
No failing DVDs: DVDs get lost, scratched up and don't work in every player. It's time to leave them in the 90s where they belong.